PancakeSwap's New Fixed-Term Staking Offers Boosted Rewards
Decentralized exchange offering users the chance to stake and earn more
Fixed-term staking is coming soon to PancakeSwap. The new feature will offer people who stake their CAKE the chance to increase their yields and earn more money.  Decentralized exchanges are vying with each other for the biggest slice of the market.
Everyone likes a good deal. And many people in the blockchain community are often on the lookout for the next best opportunity to boost their profits. So when I saw PancakeSwap's latest update about their new fixed-term staking offer, I had to do a bit of investigating.
It turns out PancakeSwap will be updating its staking options in two ways:
Flexible staking is replacing the CAKE Syrup Pools.
PancakeSwap is introducing Fixed-Term Staking for the first time.
Until now, users could stake their tokens using the CAKE Syrup Pool, of which there were two kinds. They offered the Auto and the Manual options. And as you can probably guess, each one came with different requirements from users in terms of hands-on management.
For people putting their CAKE into the Auto Syrup Pool, the profits they earned would be automatically reinvested and the users could enjoy compounded earnings. Users could invest their CAKE, sit back and enjoy the profits. (A small fee would be deducted, of course.)
With the Manual CAKE Syrup Pool, users could reinvest their profits and compound their earnings as well. But they would do it themselves, manually. Without the associated fees, users could earn more money.
How will staking work from now on?
Flexible staking will essentially replace the Auto CAKE Syrup Pool feature and the Manual option will be retired. The fees will remain the same, as will the 'same simple and user-friendly experience'.
Fixed-term staking is where it gets interesting. For anyone going long on CAKE, fixed-term staking seems like the best option. You can leave your tokens locked away, and the longer you leave them, the better your returns. You should be aware though, that once your CAKE is in fixed-term staking, you will not be able to access it. So if the price of CAKE drops dramatically, you will not be able to shift it. The image below is taken from PancakeSwap's press release and appears to show an annual percentage yield (APY) of 86.56%. This means that over an eight week period, if you locked away 100 CAKE ($898 at the time of writing), you would receive back 13.32 CAKE ($119.50).
That's not bad for money that would have been otherwise untouched and dormant.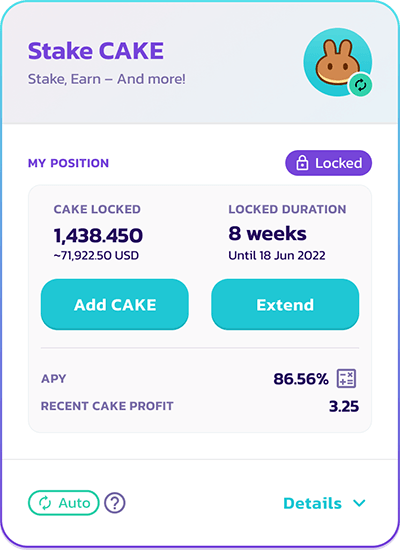 PancakeSwap fixed-term staking screengrab
How PancakeSwap works
PancakeSwap is a decentralized exchange (DEX). This means that there is no third party that regulates its users and offers guarantees on the tokens being traded. Centralized exchanges (CEX), like Binance, Coinbase and Kraken verify the people who use their platforms. CEXes themselves are heavily regulated by the governments of the countries in which they operate.
DEXes are peer-to-peer trading platforms that rely solely on blockchain technology. While CEXes hold cryptocurrency in a central repository, much like a bank, DEXes are marketplaces where individuals can trade. Central companies set fixed fees for using their platform but on exchanges like PancakeSwap, prices can fluctuate . This means there are greater opportunities on DEXes to find the best value on the market.
PancakeSwap is the biggest DEX in the world in terms of users. Over the past 30 days, 2.84 million unique active wallets interacted with the platform. People traded $8.46 billion worth of cryptocurrency on the site and it's held the top spot in DappRadar's DeFi dapps ranking page for a long time.
DappRadar DeFi dapps rankings page
To get started with staking on PancakeSwap, you can use DappRadar's Token Explorer to buy some CAKE. You can also track PancakeSwap's performance by visiting DappRadar's DeFi dapp rankings page. Our blog will keep you updated with the latest news and our Twitter is great for instant bulletins as things happen in the blockchain world. Join our Discord server for great conversations, weekly quizzes and a welcoming community.
Hey, like this? Why not share it with a buddy?