Ferrari quali report: Charles Leclerc P2, Carlos Sainz P3 | 2022 F1 Saudi Arabian GP
A promising qualifying was in store this evening at the Jeddah Corniche Circuit for the 2022 Saudi Arabian GP and one thing was for sure: a Red Bull – Ferrari close battle was expected for pole position based on what could be seen from the three practice sessions on Friday and Saturday afternoon.
As always, all 20 drivers took part in the first segment of the qualifying session, with the five slowest drivers eliminated after 18 minutes. This is one of the longest tracks on the Formula 1 calendar so out laps and in laps take a bit longer than usual. After just a few minutes, Nicholas Latifi went for a big spin at Turn 13 and crashed into the barriers. This Jeddah street circuit is certainly unforgiving. The Ferrari cars looked to be heading for the top of the standings and were in the very final stages of their flying laps when that red flag came out, which was sadly likely to cost them a fresh set of tyres. After the session got underway again, Max Verstappen initially set the pace with a 1:29.3 but he was immediately displaced by Charles Leclerc and then Carlos Sainz. The Spanish driver's benchmark was a 1:28.855!
Lewis Hamilton momentarily went above Lance Stroll into P15, but the Aston Martin came through behind him to retake the position and knock the Mercedes out at the end of Q1. It is the first time that's happened to him since the 2017 Brazilian GP. The five slowest cars to set a lap were all powered by a Mercedes engine.
Charles was unsurprisingly the fastest in the early going of Q2, while Max Verstappen then set his first flying flap but it was only good enough for third. He was behind the Ferrari of Charles Leclerc, and his Red Bull team-mate Sergio Perez, but the top three were covered by less than a tenth of a second. Carlos Sainz was a little further back in the other F1-75 car.
Qualifying was delayed after Mick Schumacher suffered a frightening crash in Q2. The Ferrari Driver Academy member was on a hot lap in the second phase of qualifying in Jeddah when he lost control of his Haas VF22 at turn 12. The on-site medical vehicles arrived quickly at the scene with Schumacher extricated from the car and into an ambulance. Haas then provided some very positive-sounding update on Mick, confirming he is "physically fine."
Almost a full hour after Mick Schumacher's crash, Q2 was back underway. Lando Norris, Daniel Ricciardo, Zhou Guanyu, Mick Schumacher and Lance Stroll were eliminated in Q2.
Carlos Sainz was quicker than his Maranello team-mate Charles Leclerc on their first flying laps in the final segment of the qualifying session: a 1:28.402 for Carlos, with Charles half a tenth slower. With two minutes to go, the Ferrari F1-75 cars and Red Bulls were back out on track for their final flying laps. Sergio Perez was unfortunately able to get ahead of both Ferraris, beating Charles Leclerc's time by just 0.02s with a 1:28.200. Max Verstappen was more than 0.2s back from his team-mate in P4, behind the two F1-75 cars.
Sergio Perez has therefore set a new record for the most races it's taken an F1 driver to claim pole.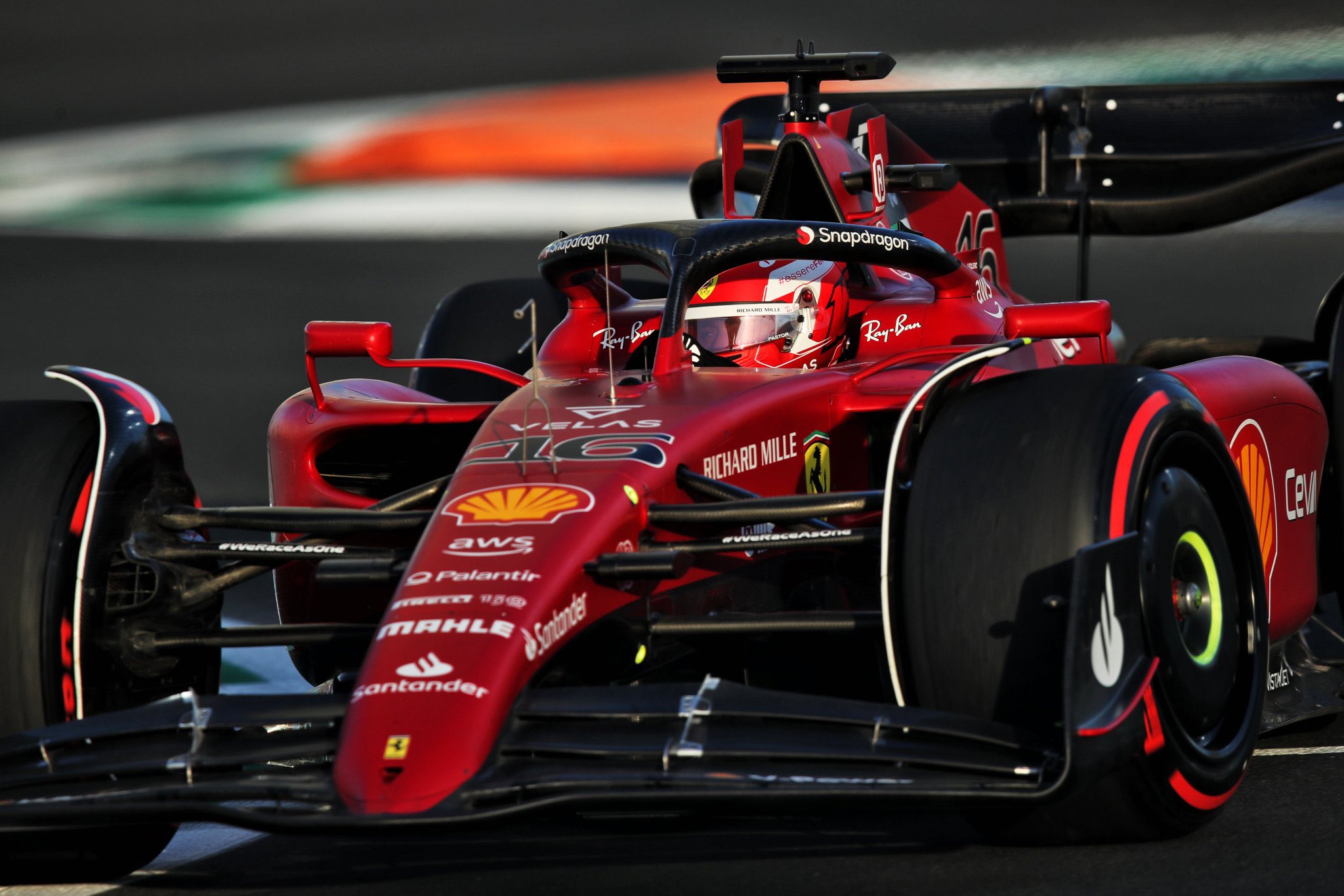 The post Ferrari quali report: Charles Leclerc P2, Carlos Sainz P3 | 2022 F1 Saudi Arabian GP appeared first on Scuderia Fans.
Hey, like this? Why not share it with a buddy?